Active Learning Spaces: A new world of teaching
 As we know, there is a worldwide attempt to reduce TST (Teacher Standing and Talking) and move towards active learning.
To do so, designated spaces were built, allowing group learning.
Bar-Ilan University houses four such learning spaces, which include modular furniture (tables and chairs on wheels)
Join the lecturers already teaching in these classrooms.
For further details contact Inbal Hayik at inbal.hahic@biu.ac.il
To request placement, fill out this form
** Completing the form is not a confirmation of placement. The placements' assessment and approval will take place about a month before the beginning of each semester.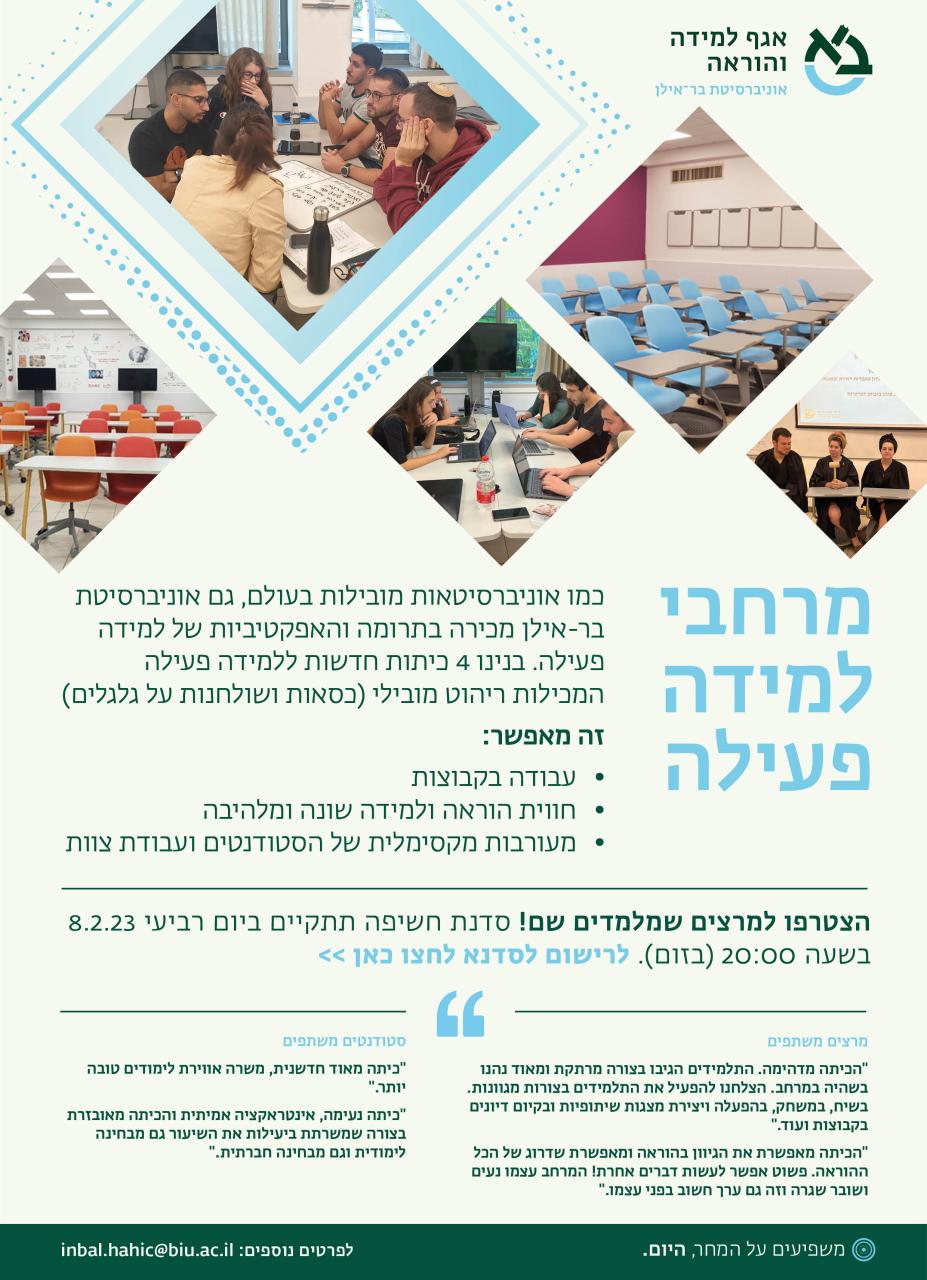 Participating Lecturers Share:
"The classroom is amazing. The students responded in a fascinating way and really enjoyed using the space. We were able to engage the students in a variety of ways: conversation, playing, creating collaborative presentations, holding discussions in groups etc. The classroom enables diversity in teaching and takes it to the next level. You can simply do things differently! The space itself is pleasant and mixes things up, which is also an important value in itself."
"There are tables and there is an opportunity for cooperative work in groups around the table. As a result, there is mutual enrichment and cooperation among the students."
Students Share: 
"A very innovative classroom, creates a better learning atmosphere."
"Pleasant classroom, real interaction. The class is equipped in a way that efficiently serves the lesson, both academically and socially."
"Excellent and advanced classrooms, very comfortable with the projector and the different seating arrangement, the chairs are comfortable and the option to always change the seating arrangements is very helpful for learning."